Silver Investing Made Simple
Find more detailed buying/selling information on 12 popular U.S. silver coins in my eBook The Last US 90 Percent Silver Coins. Simply click on the book title for an Instant Free Preview.
Hello and welcome to Silver Investing Simplified for 2016.
You will find useful information on this site if you are just starting out on your silver coin investments or simply want to find out more about buying/selling silver.
Investing in silver isn't confusing if you have the right information. My goal is to provide you with information that can help you with your silver investment decisions. Just keep in mind that only you can decide if investing in silver is right for you. I take no responsibility for whatever silver purchases you decide to make.
Is 2016 The Year Silver "Takes Off"?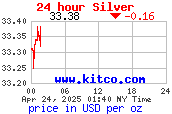 It has been over 35 years since silver hit its all time high of approximately $50.00 per ounce. In 1993, silver could be bought for as low as $3.50 per ounce. Again in 2011 silver approached the $50 per ounce level before starting its slump. So where does silver go from its current spot price shown at right?
No one knows for sure how high or low it will go. There are powerful forces at work using every trick in the book to hold the price of silver (and gold) down and keep the U.S. Dollar propped up. Silver closed out 2015 at $13.83, a loss of $1.86 or 11.86 % for the year (with a high of $18.35 and a low of $13.67 in 2015). Many knowledgeable experts say the price of physical silver is due to break out to the upside - away from the suspect "paper silver" price in 2016.
More Silver Investment Articles To Follow
At one time, I sold silver and gold for one of the oldest and most reputable precious metals dealers in the USA. Now I want you to benefit from my experience. So stay tuned for more articles on investing in silver. My goal is to make this site and it's sister sites, Silver Investing Guide and Gold Investing Simplified, among the most helpful gold & silver investing sites on the Internet. So if you are currently a silver investor or soon-to-be investor, come back again.
Copyright © 2016 Silver Investing Simplified - All Rights Reserved